Dedication of DeLacy's MOH Headstone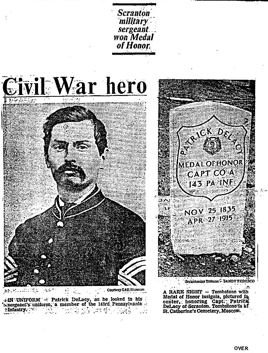 Although those who receive the Medal of Honor are entitled to a headstone at their place of burial so noting their achievement, it sometimes takes the persistence of a family member to make it so.
Anthony J. Kelly, the Captain's great-great-grandson and a licensed battlefield guide at Gettysburg National Military Park until he passed away July 20, 2000, was instrumental in making sure the Captain's burial place in St. Catherine's Cemetery in Moscow, PA, would have this special stone.
On April 30, 1989, family and friends gathered to dedicate the headstone and remember the amazing life of Patrick DeLacy. Read Tony's speech on the occasion.