The War Years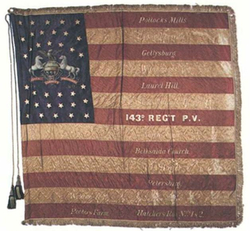 In 1862, Patrick DeLacy left his wife and infant daughter behind in Luzerne County, PA, and enlisted in the 143rd Pennsylvania Volunteer Infantry, Company A. He fought in every battle of that regiment throughout the war – including epoch contests like Gettysburg, the Wilderness, Cold Harbor and Petersburg.
Soldiers from Luzerne, Susquehanna, Lycoming and Wyoming counties comprised the 143rd PA. Deemed one of the Fighting 300 Regiments – so named because it lost more than 130 men killed or mortally wounded in Lt. Col. William F. Fox's "Regimental Losses of the American Civil War" (1889).
According to an 1880 biography, DeLacy was under fire at one time during the war every day for 30 days. He was promoted from private to sergeant major to lieutenant, when he was mustered out of service with the regiment in June 1865. An intended promotion to captain did not materialize until his granddaughter secured it many years after his death (see "Why the Last Union Captain" here.)
DeLacy received the Medal of Honor for action at the Wilderness, but perhaps the best tribute to his reputation as an outstanding soldier and officer came from his comrades, who elected him president of the Veteran Soldiers' Association for the 143rd, 149th and 150th Pennsylvania regiments for 14 years in a row.
To see DeLacy's appointment to 2nd Lieutenant, click here.
For more on the regiment, click here.
For more on the flag of the 143rd PA pictured above, click here.
To see DeLacy's descendants posing with the flag of the 143rd PA, click here.
For videos by Gary Roche on DeLacy's war experiences, click here.