About PatrickDeLacy.com
"The best moments in reading are when you come across something--a thought, a feeling, a way of looking at things--which you had thought special and particular to you. And now, here it is, set down by someone else, a person you have never met, someone even who is long dead. And it is as if a hand has come out, and taken yours."
– Playwright and author Alan Bennett
This website came about because of the rich record our family has been fortunate to preserve about Patrick DeLacy, a soldier from Carbondale, PA, who served in the 143rd PA Infantry and received the country's highest military decoration–the Medal of Honor.
History should be shared, not just preserved. So we have pulled together our diverse collection of medals, newspaper articles, photographs, oral histories and other items related to our ancestor and are making them available to the public through this site. We hope you enjoy browsing through the site and encourage you to send us your comments and questions.
Patrick DeLacy could not have known that through his service, he would inspire three men in particular to become licensed battlefield guides at Gettysburg. These are their stories: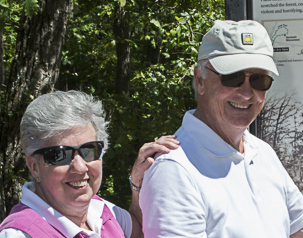 Photo Credit: Bill Dowling
DowlingPhoto.com
Gary Roche has been a Licensed Battlefield Guide at Gettysburg National Military Park for 18 years – however, he has studied the Civil War and Gettysburg his entire life. His great-great grandfather, Patrick DeLacy (143rd PA Infantry), received the Medal of Honor in 1894 for his actions in the Battle of the Wilderness in May 1864. Gary served in the Pennsylvania National Guard as a member of the Nike System Air Defense from 1959-1965 and was honorably discharged as a sergeant. Retired from his role as a computer salesman for IBM, Gary has given numerous presentations on the Medal of Honor and his ancestor for community organizations, historical societies and Civil War round tables. He lives with his wife Marsha in Easton, PA, and Gettysburg. They have 2 children (daughters) and 6 grandchildren.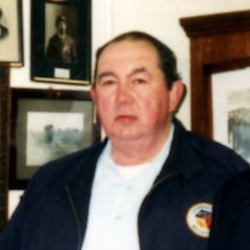 Also the great-great grandson of Patrick DeLacy, Anthony J. Kelly was born in Scranton, PA, attended Scranton Preparatory School and then served in the U.S. Navy for four years. After his Navy service, he graduated with a degree in Physics from the University of Scranton. A technical writer for ITT, Westinghouse and RCA Forestal Laboratories, he also was an independent contractor writing about nuclear reactors. After retirement, he moved to Gettysburg. He took and passed the licensed battlefield guide exam with his cousin, Gary, and served as an LBG for 4 years (1995-1998) before his death in July 2000. He had six children.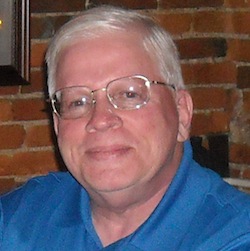 When Gary and Tony Kelly dedicated Patrick DeLacy's Medal of Honor headstone in 1989, they met Anthony DeLacy – a descendant of Patrick DeLacy's brother, Michael. Since that time, Tony retired in 2004 after 35 years with the Department of Welfare, the Commonwealth of Pennsylvania, Philadelphia Office. Tony became a Licensed Battlefield Guide in October of that same year. Tony served in the Marine Corp as a Lance Corporal from 1966-1968 and was a police officer in Lower Merion Township (outside Philadelphia) from 1969-71. He and his wife Michelle reside in Gettysburg. They have one son.
Four licensed battlefield guides at familiar territory in Gettysburg, the Cashtown Inn. From left: Gary Roche, Wayne Motts (also CEO of the National Civil War Museum in Harrisburg, PA), Tony DeLacy and the late Bob Mullen, Gary's friend and mentor.