DeLacy and Chamberlain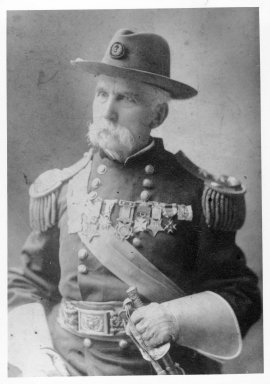 Joshua Chamberlain - courtesy of Bowdoin College Library, George J. Mitchell Department of Special Collections & Archives
Their relationship began with an act of kindness: one man offered another a drink of water before an attack at Petersburg, VA, in June 1864. On the one hand, they had little in common. One man was a company commander; the other, his new brigade commander. One had little formal education; the other was a professor with several college degrees. On the other hand, they shared a great deal. Both had survived severe contests at Gettysburg the year before. Both had been wounded. Both received the Medal of Honor decades after the war. Both were prominent citizens in their respective communities at home.
Quite a few post-war letters from Patrick DeLacy to Joshua Chamberlain survive – but there's a mystery behind them. Although in his own correspondence DeLacy refers to Chamberlain's letters to him, they can't be found. It's possible they are in a private collection outside of the family or were destroyed inadvertently by family – or, they simply do not exist. If they do, however, they hold the key to the relationship between two very different men who had survived one of the most horrific periods in American history.
This section includes known correspondence from DeLacy to Chamberlain, as well as Chamberlain's recommendation for DeLacy's promotion.
---
The DeLacy - Chamberlain connection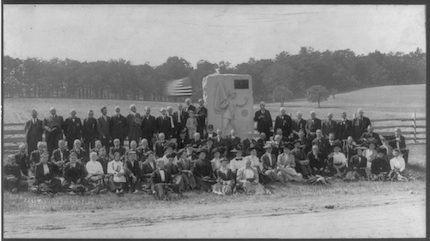 Photo taken at Gettysburg, PA, near the 143rd PA Infantry monument on September 28, 1910 - "Reunion of the 143rd Pa. Reg. Asso.," Courtesy Library of Congress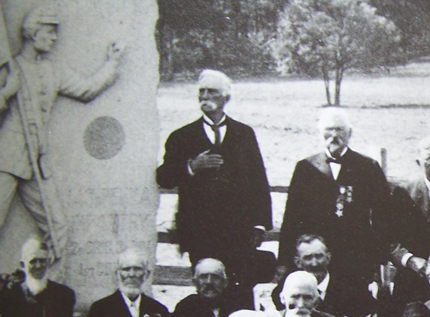 Joshua Chamberlain and Patrick DeLacy, "Reunion of the 143rd Pa. Reg. Asso.," Library of Congress, via Joshua Lawrence Chamberlain.com
At the Battle of Petersburg in June 1864, Patrick DeLacy, commander, Company A, 143rd PA, was assigned to the Fifth Corps brigade staff. At that time, Joshua Chamberlain was the newly appointed commander of the First Brigade in Gen. Charles Griffin's First Division of the Fifth Corps. (The Fifth Corps commander at the time was Gen. Gouverneur Warren, former chief engineer of the Army of the Potomac under Gen. George Meade at Gettysburg).

Chamberlain was DeLacy's brigade commander for only a few weeks, but the bond between the soldiers and officers of the brigade and Chamberlain appeared to be a strong one that endured long after the war.

DeLacy was at Petersburg when Chamberlain was severely wounded. After the war, DeLacy wrote an account of Chamberlain's wounding to his old brigade commander. See the letter HERE.

Chamberlain wrote a letter to the U.S. War Department requesting a promotion for DeLacy to the rank of Captain.

Chamberlain spoke at two of the 143rd PA's reunions, one at Harleys Lake, PA, around 1901 and one in concert with the dedication of the Pennsylvania Memorial at Gettysburg in 1910.

He also spoke at the 1899 dedication of Maj. Gen. John F. Reynolds' equestrian statue at Gettysburg. He was invited because several regiments in Roy Stone's brigade at Gettysburg – including the 143rd PA – fell under his command later in the war at Petersburg.

At the Reynolds dedication, Chamberlain spoke warmly about those who served with him at Petersburg, saying they were "men of the ancient valor, proved by direst test, made mournfully illustrious by the twelve hundred and fifty of them counted for "lost" on almost this very ground; the chastened survivors whom honored me by coming not long afterward into my command, and mingled their life-blood with my own before the fateful salients of Petersburg." (Source: Pennsylvania at Gettysburg, pp. 996-997).