What's New
Program on the Medal of Honor/Patrick DeLacy
November 9, 2017
2 pm and 7 pm at Hamburg Area High School, Hamburg, PA
80th Birthday!
April 2nd, 2017
LBG Gary Roche celebrated his 80th birthday with his family and close friends!
Obituary Added
September 13th, 2015
The April 28th, 1915 Scranton Times Obituary for Patrick DeLacy has been transcribed and uploaded!
Challenge Coins Updated
September 30th, 2014
Several of the information pages linked to the Challenge Coins page have been updated with photos of the actual recipients.
New video posted!
Programs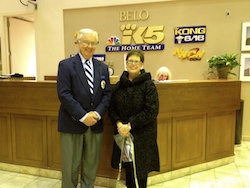 Gary Roche and Debbie Macomber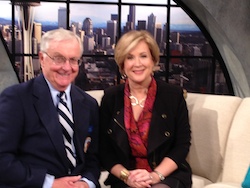 Gary Roche and Host
October 31,2013
Gary was on the West Coast in Seattle, WA, taping a segment for the KING 5 television studio. The video segment can be seen here: KING 5 Video

November 1, 2013
Gary gave a presentation to the South Kitsap High School history class and also the ROTC class at the local armory
Seattle, WA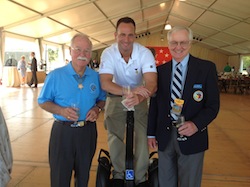 Barney Barnum, David - Wounded Warrior, Gary
September 18-22,2013
Congressional Medal of Honor Society Annual National Convention
Gettysburg, PA
www.cmoh2013.org

Convention Photos and Challenge Coins!
September 19, 2013
Opening Remarks to MOH Recipients & Families

September 20, 2013
Special Battlefield Tour,
"The President's Own" United States Marine Band
United States Marine Band

July 1, 6:55 p.m., CBS Evening News
CBS correspondent Chip Reid does a segment on Gary Roche as he gives a tour of the battlefield to a family from Missouri and Illinois and discusses his ancestor. Video link.
Programs
Coming up:
December 2, 2013
Robert E. Lee Civil War Round Table of Central New Jersey
Medal of Honor/Patrick DeLacy
www.roberteleecwrt.com
Prior programs:
March 24, 2013
National Civil War Museum
Harrisburg, PA
Program on 150th anniversary of awarding of first Medal of Honor
www.nationalcivilwarmuseum.org
October 3, 2012
Rockland Civil War Round Table
Pearl River, NY
Program on Medal of Honor/Patrick DeLacy
April 13, 2012
Association of Licensed Battlefield Guides
2012 Spring Seminar, "The Medal of Honor at Gettysburg"
with Licensed Battlefield Guide colleagues Roy Frampton, Renae MacLachlan
www.gettysburgtourguides.org