Medal of Honor Application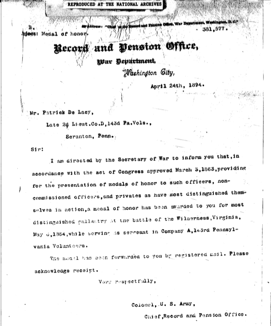 Acknowledgement Letter
Congress does not award Medals of Honor easily or lightly–now or during the Civil War. First, of course, a soldier had to do something to meet the criteria established by Congress in the second year of the war.
In 1862, President Abraham Lincoln approved legislation to prepare Medals of Honor to be "presented, in the name of the Congress, to such non-commissioned officers and privates as shall most distinguish themselves by their gallantry in action, and other soldier-like qualities, during the present insurrection."
In the early days of the medal, a soldier himself could apply to receive it. When more than 700 Civil War veterans sought to secure medals in the late 1800s, President McKinley directed the army to set stricter policies about applications and awards of the Medal–one being that a veteran could not apply for his own.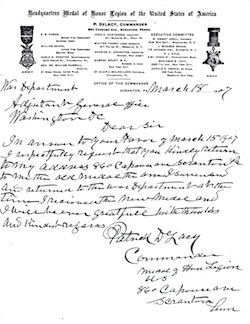 To read the transcript of the handwritten letter that Patrick DeLacy sent, requesting the return of his original Medal of Honor, click here (Microsoft DOC).
Patrick DeLacy had no such hurdle. His commanding officers wholeheartedly recommended him under oath in an extensive application. On April 24, 1894, the United States bestowed DeLacy with the Medal of Honor.
To read the original application for Patrick DeLacy's Medal of Honor, click here. See page 29 of the original document, the letter he received telling him he had earned the Medal.