Why "The Last Union Captain"?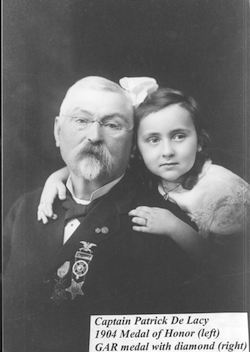 In the mid 80s, Patrick DeLacy's granddaughter–Elizabeth Hicks Jacquinot, or Aunt Betty to family–learned Medal of Honor holders were entitled to a special Medal of Honor headstone for their grave sites. It is one of several benefits that a grateful nation confers upon those who receive the highest military decoration.
When Aunt Betty investigated the matter, she was told that there would be a headstone–but for 2nd Lt. Patrick DeLacy. Yet her grandfather had been known as Captain DeLacy during and after the war, by comrades in arms and civilians alike. A planned promotion near war's end got lost in the paperwork shuffle of the time. The commission elevating him to the captaincy never arrived before he was formally mustered out of the 143rd PA as a second lieutenant. DeLacy himself did not press the issue after the war.
But Aunty Betty would not be denied in her quest to see that DeLacy got the formal recognition he originally had attained and deserved. She battled the Veteran's Administration for four years, repeatedly petitioning U.S. Congressmen and Senators until, finally on June 8, 1987, the U.S. Defense Department (formerly the War Department) changed Patrick DeLacy's rank to captain.
Aunt Betty is buried only 50 feet away from her ancestor in St. Catherine's Cemetery in Moscow, near Scranton, PA.
So at his death in 1915, although he may not have been the last surviving Union captain, we in the family believe he was likely the last Union soldier to receive that promotion.
To read the speech given at the 1989 dedication to DeLacy's MOH headstone with his correct rank of Captain, click HERE.