Early Years (1835-1860)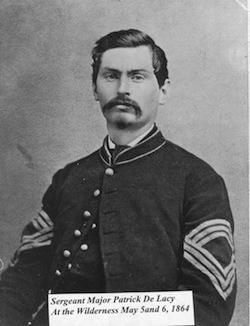 "You've got to do your own growing, no matter how tall your father was."
– Irish proverb
Born Nov. 25, 1835, to William and Catherine (O'Boyle) DeLacy, in Carbondale, PA. His father William hailed from county Wexford, Ireland, and his mother Catherine from Kilkenny, Ireland.
DeLacy's father and mother, both of French descent, were prominently identified with the rebellion of 1798 in Ireland.
Second child of seven. He had three brothers and three sisters.
His father was a shoemaker who emigrated to the U.S. when he was 19 and was among the early settlers of Carbondale, PA. He lived and worked there until 1839, when he moved to Tamaqua, Schuylkill County, and subsequently to Hazleton, Luzerne County, and moved to Carbondale in 1840, and in 1842 to Scranton. After residing in Scranton (then Slocum Hollow) one year he moved to Covington township and purchased a farm, where he lived until 1861. That year he returned to Scranton, where he died in 1862.
Patrick De Lacy grew up on the farm, his education primarily at the common school.
At 17, he became a coal miner and a year later in 1853, learned the tanner and currier trade under the instruction of John Mehan from Covington, PA. He worked with Mehan for two and a half years, rising to become foreman of the business.
DeLacy trained for one year in the currier trade with his future father-in-law, Jeremiah Wouders. Afteward, he worked as a journeyman in the area of Kingston, PA, until 1858.
On January 9, 1858, DeLacy married Rebecca Elizabeth Wouders. The daughter of Jeremiah and Sarah A. Wouders, of Wyoming, Rebecca was born on April 11, 1840.
The DeLacys had seven children: Sarah Catherine, born June 1, 1861; Mary Elizabeth, born April 9, 1863; Anna C., born February 14, 1866; William P., born March 15, 1868; Nellie, born December 19, 1870 (died when two years and six months old); Julie (died in infancy) and Susan, born December 19, 1873 (died November 8, 1876).
After marriage, DeLacy and his family moved to Newark, NJ, where he worked as a foreman currier in the tannery of A.G. Hull, in Bushkill, Pike County. After a year and a half, he moved to Truxville, Luzerne County, and leased a tannery that he ran for a short time.
In 1862, he enlisted in the 143rd PA Infantry and began his journey through the Civil War.