143rd Flag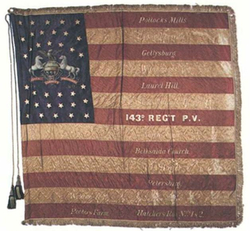 On July 4, 1866, battle flags of Pennsylvania regiments were returned to the "custody" of the Commonwealth of Pennsylvania. Today they are kept in conservation and storage facility managed by the Capitol Preservation Committee in Harrisburg, PA.
The flag pictured here is one of four surviving flags belonging to the 143rd PA. It is the Second State Color with battle honors. The regiment received it during or after January 1865, the last year of the war. Made by Horstmann Brothers and Company in Philadelphia, the flag is made of silk and is 72 x 72 inches. These kinds of flags – with battle honors painted on the stripes – were usually issued near war's end and shown during the 1865 Grand Review, a military procession celebrating the end of the war in Washington D.C. in May 1865, as well as other parades of Union veterans' clubs called the "Grand Army of the Republic" or GAR posts.
To see the First State Color or the Regimental Color of the 143rd PA – both worn from being carried in battle – go to http://cpc.state.pa.us/cpcweb/ and type "143rd Infantry" into the search bar under the "Civil War Flags" section. Flags may be viewed by appointment only.